THE MAID-RITE SANDWICH OF
DARKE COUNTY, OHIO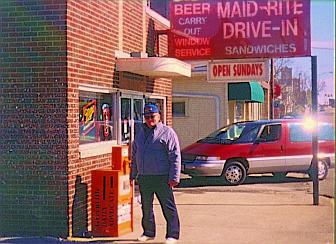 Photo: A. Corbin

A traditional dish of Darke County, Ohio, the Maid-Rite sandwich has been described as a sloppy-joe without the ketchup sauce. They have been around several generations and are now a part of the unique culture of the county.
True Maid-Rites are served by the Maid Rite Resturaunt, 125 N. Broadway, Greenville, OH. Take Broadway past the Courthouse, and continue half-way around the traffic circle at the Northwest end. Near the Rail Road tracks is the Maid Rite Resturant/Carry Out. You can drive through or eat in the small seating area inside. They are open Sundays. You can call them at 937/548-9340. Here is a "MapQuest" map, obtained from an AltaVista Business Search, to help you find your way there. I vouch for its accuracy (I grew up in Darke County!).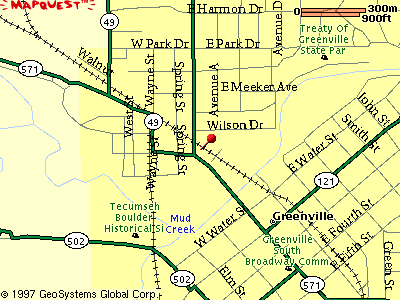 The true Maid-Rite recipe is a family secret, held closely by the owners of the resturaunt. If you want a true, original Maid-Rite, you will have to go there in person. (And I strongly recommend that you do!)

Faux Maid Rites
However, if you are curious as to their taste, an ex-patriate of Darke County, Ohio, like myself, and/or can't make it to Greenville easily, here is what is often called a "close-to-the-real-thing" recipie for them. This is available because the real recipie is a closely held secret and many a cook in Darke County has his/her own favorite "Maid-Rite" recipie.

They are fast and easy to make, keep well, and on a busy farm, are sometimes the answer to feeding the hungry farmers when they come in out of the field at dinner or supper. This also makes them ideal for a busy family, with little time to cook, and still offers an opportunty for everyone to sit down together for supper, even if just a little while. You see, in Darke County, eating at least one family meal together is still seen as the right thing to do to keep families strong.

So, enjoy the following recipie, it tastes pretty close to the real thing to me! And if you have a family that hasn't eaten a meal together since you can remember, try it over Maid Rites. Your time investment is small, but the time together is priceless. And these sandwiches are far cheaper than microwave dinners.

RECIPE
Faux Maid-Rite
| | |
| --- | --- |
| 1 lb | Ground Beef |
| 1 tsp | ground pepper |
| 1 tsp | sugar |
| 2 tsp | prepared mustard |
| 6 oz | beer (optional) |
| | salt (to taste) |
Combine ground beef, pepper, sugar, mustard, salt in the top of a double-boiler and add beer. Cover top and heat for one-half hour, stirring occasionally. The longer it cooks, the more the flavors blend together. Toward the end, uncover to allow some of the liquid to boil off.
Use a slotted serving spoon to serve on hamburger buns with mustard, dill pickles and chopped onion. Serves 6.
Notes: Use prepared yellow salad mustard, such as that for hamburgers or hot dogs. Do not use dry powdered mustard, or a Dijoni or Poupon style mustard. Use a good quality, low fat ground beef. Water may be substituted for beer.

ACKNOWLEDGEMENTS/DISCLAIMERS
This Recipie has been modified to include beer, which some consider an essential ingredient for its imparted flavor. The original version of the recipie (without beer) courtesy of Carolyn Frazee, Arcanum, Ohio.

This page is not endorsed, sponsored, or affiliated with the Maid Rite Resturant, Greenville, OH. It is provided solely to assist with discussions of Darke County culture and lore on the Darke County Genealogical Web Site and Mail List , as well as to make everyone hungry for one of my favorite dishes, the Maid Rite! You are strongly encouraged to visit the Maid Rite Resturant the next time you are in the area and partake of the REAL MAID-RITE!!!


Back to Darke County Page

Back to Home Page